Darlene Distaffen
---
Fine Art & Portraits
Realistic Pencil Drawings, Water Color and Ink Pictures
---
---
Biography
Darlene started to seriously draw and paint after her marriage to Guy in 1961. She found that as time went by, she had a strong desire to draw people. Not having the benefit of photographic resources, she followed her husband as he served as a volunteer fireman, sketching firefighters in action. In addition, her children posed for her, at home, at play and wherever they went. On a vacation with her mother and son to her aunt's farm, she was excited to be able to sketch cows that were restrained in the stanchions in a cow barn. Their movement was restricted and sketching easier.
The following snowy January, yearning for the opportunities to draw people that occur during the summer, she began wondering where people could be drawn where their movement was restricted in a similar fashion as the cows and the idea came for courtroom drawing. Following 3 months of working daily in the courtrooms striving for likeness, she began doing free-lance work for Channel 13, WOKR-TV (now WHAM-TV) in Rochester, NY doing courtroom art for the evening news.
A member of the Henrietta Art Club for over 10 years, she received many awards for her work in their Annual Spring Shows. In 1977 and 1978, her pencil portraits won "Best of Show." She also won 1st place for her original design in Rochester's Bicentennial Celebration Medallion Contest in 1976.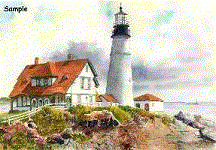 In 1978, there came some dramatic changed for Darlene and her husband Guy. They both came to the place in their lives where they received Jesus as their Savior and found their lives changed dramatically for the good. They experienced God's call to serve Him in full time ministry and moved to Castile, New York to attend Elohim Bible Institute. After earning their theology diplomas, in 1985, they became missionaries with BCM International (formerly Bible Club Movement). Supported by local churches, they began working in Wyoming and Livingston Counties with Bible Clubs and Released Time programs. They are well known for working with Bible Clubs in Pike, Batavia, Perry, York and Hermitage, as well as Released Time programs in Castile, Perry, York, LeRoy, Varysburg, Alexander, Wyoming and Warsaw.
After 18 years with BCM, Darlene took an early retirement to care for Guy as a result of his declining health. During this time, Darlene began training her eye and hand to return to its previous skill.
After Guy's going to be with the Lord in January 2006, drawing and painting became for Darlene, a way of coping wih her loss while showing God's glory through the beauty around her. While still involved in the Bible Club work to a lesser extent, physical limitations continue to make these artistic endeavors the perfect option.


Wyoming County...a rich resource

Click on any of the pictures, to see a larger image